Paintball Equipment
We only use the very best and latest equipment available
Unreal Paintball Equipment
Here at Unreal Paintball we only use the very best and latest equipment available.
Offering high standards of quality to ensure you have the time of your lives. You won't find another Paintball site in Staffordshire, Cheshire or the North West offering Empire Tournament Battlepacks.
Here's a brief overview of what you will find at our quartermasters.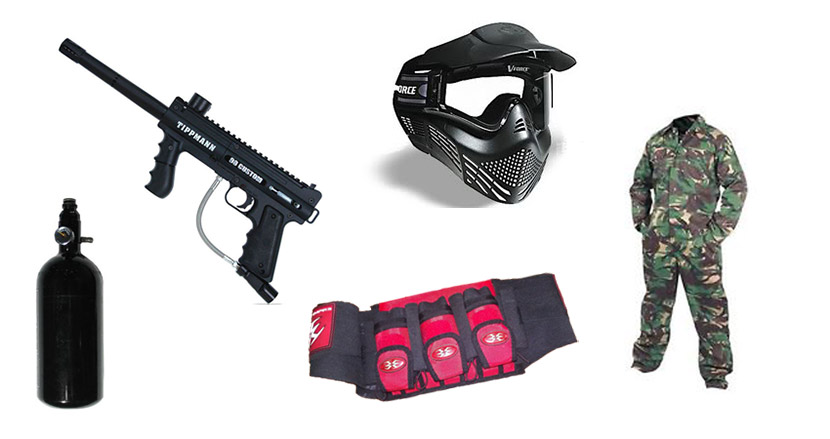 Paintball Marker
This GUN is the workhorse of the industry its one of the most accurate and reliable markers on the market! Powered by compressed air and capable of firing 7 balls per second it makes for a formidable weapon out on the field. Accurate to around 100 feet but capable of shooting twice that distance (if you can see that far!) it will perform the task at hand all day long. The gas tank is good for around 800 shots depending on the ambient air temperature. The hopper on top of the gun carries some 200 paintballs at a time – enough for at least one game! All the guns are set below the industry limit of 300 fps and are checked each time they are used.
Paintball Goggles
This is the most important piece of kit you will be issued and must be maintained correctly all day whilst on site. You will be given full instruction on how to fit and adjust the unit before you will be allowed to play, and also on how to use the V-Force anti-fogging solution provided. These goggles have been especially designed for the use of playing paintball and can withstand a direct shot to the lens. The unit offers you eye, ear and head protection. It comes with an added peak to keep the rain and sun out of your vision.

Camo Overalls
Available in four sizes – small, medium, large and extra large. The camouflage pattern used is British D.P.M. (Disrupted Pattern Material) and the suit has elasticated cuffs and ankles with poppers to secure the front. These suits are made from a light cotton drill and will give your clothes protection against mud and paint during the day.
Battle Pack
Made from tough nylon, this is another top bit of equipment. These are the same packs used by the pro's, there's no need for armbands at Unreal as these packs distinguish what team you are on. Fully adjustable for the fuller figure or the smaller Young Gun it will carry your paintballs all day. You can fit up to 9 x 100 ball pots in these packs.